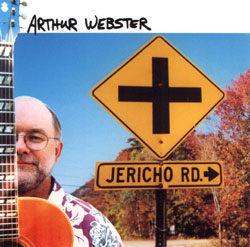 Welcome Home !
I'm Arthur Webster, the mastermind and head CEO behind Webtonemusic and Webtone Records. Presently, I'm performing and recording music in and around my hometown of Boothbay, Maine.
I appreciate that you have taken the time to visit my page. Please enjoy, tell your friends and come back again!
My Premier Solo CD!
Pictured above is the cover of my solo CD, "Jericho Road". You can easily purchase a copy several different ways. Get in touch with me by phone, mail or email and I will send you a CD for ONLY $12.00 (10, plus 2 for postage), satisfaction guarranteed!
THINK BIRTHDAYS! Make someone happy with a personal gift of original music.
See my CONTACT PAGE for addresses, telephone numbers + (NEW) FEEDBACK Form.
OR, check out my schedule on my GIGS PAGE, come see me perform live and I'll sell you a CD for a measily 10 BUCKS!
See my CATALOG PAGE for more info and products.
Low cost/high impact gift of original music...
UPDATES:
Our Holy Mackerels CD "Don't Take Too Many Of Them To Make A Dozen!" is now here! You can buy a copy at any of our gigs - only $10.00. Or you can see any one of us for a copy. It's on sale at Orne's Candy Store + the Tugboat Inn in downtown Boothbay Harbor. And you can call me at 207-633-4617 + for $12.00, I'll send you a CD.
Watch me perform my newest song "Ain't It Great To Be Alive" on You Tube: http://youtu.be/AQVgc3euxao While you're there look for "Jericho Road", "Josie Josie" + "You're The Reason Why" Videos
Besides performing as a solo, I sing and play upright bass with the eclectic acoustic super group, "THE HOLY MACKERELS", out of Boothbay, Maine. Check our touring schedule on my GIGS PAGE.
Check out my BIO PAGE for a blast from my past... Speaking of which:
You can buy "Jericho Road" on-line:
Just click below to go directly to my page on Amazon.com's SECURE website.
Visit My Amazon Page.
Or, Click below for my Klarity ordering page:
KLARITY Page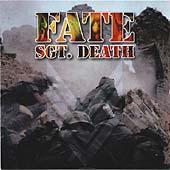 "FATE-Sgt. Death", a re-issue CD !!
In 1968 I recorded an album in NYC with a band called FATE, that got some attention at the time, but was never released. 2 small companies released copies of the demo acetate (it never got "pressed" at the time) as "FATE- Sgt. Death", marketed as Vietnam Protest/60's Psychedelic/Re-issue music. The CD version, on Shadoks Music of Germany (Shadoks Music 017) sold about 800 copies of 1000 printed. The music got rave reviews from promoters/fans of the genre!